The crypto space is making a comeback and the rally is being led by altcoins. The bulls are enjoying a five-consecutive week run higher, most straight closures in green since March 2019, as the bulls regather strong momentum.
Over the week, Bitcoin (BTC) surged as high as US $8,900 before retracing back to US $8,600 levels. The digital asset has made several attempts at the US $9,0000 resistance level but was met with multiple rejections. Bitcoin is currently trading at US $ 8,920 at time of writing, making another attempt at the resistance level.
The biggest winner of the week was perhaps Bitcoin SV (BSV), which rose by more than 150% in the week and has overtaken its rival Bitcoin Cash (BCH) in market capitalization.
---
🎊🎊 Happy Chinese New Year! 🎊🎊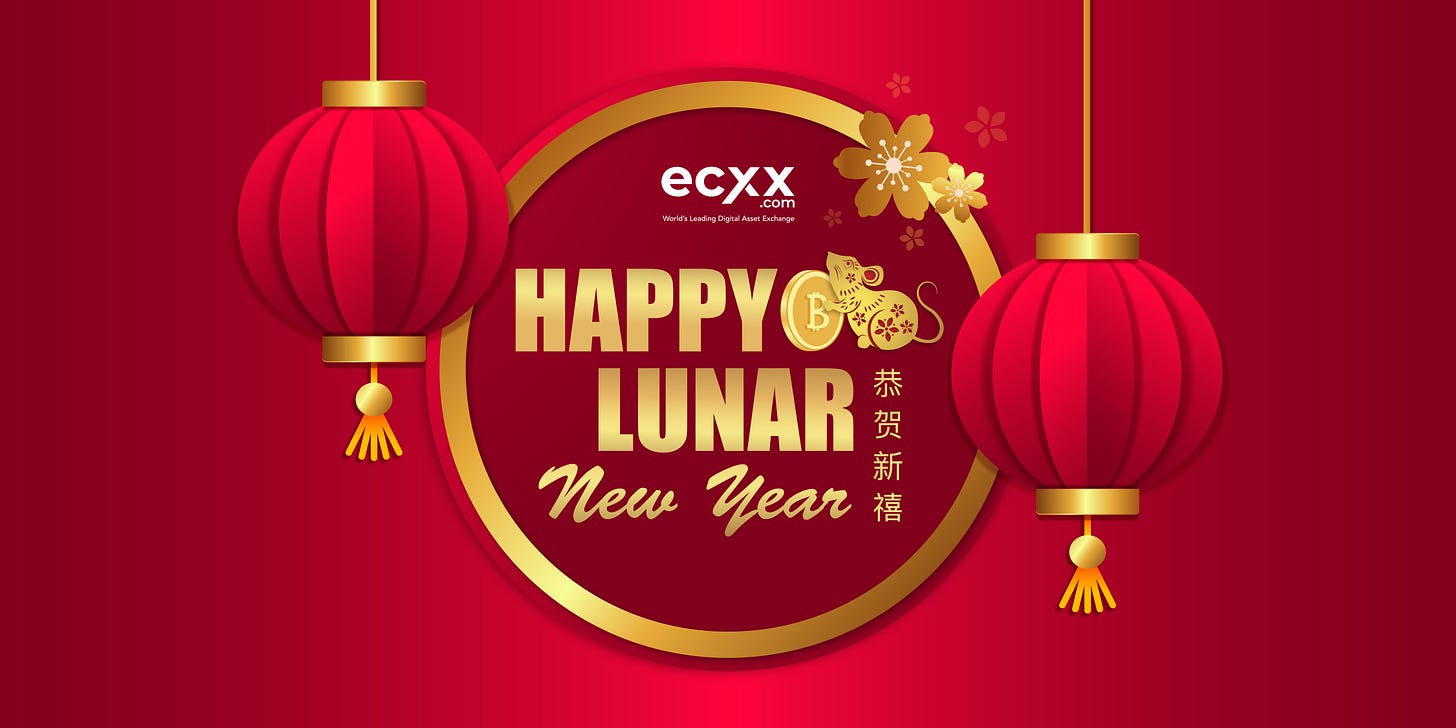 Ecxx wishes you good health and abundance in the year of the Rat! May the Lunar New Year bring you lots of happiness and prosperity.
Please note that our office will be closed during the following periods :
KYC and transaction requests may be slightly delayed during these timing. Withdrawals will resume on 29 January 2020 9:00AM Singapore Time UTC+8.
Our apologies for any inconveniences caused.
---
Bitcoin SV Soars after latest revelations
On Jan. 14, Craig Wright, the Australian entrepreneur who claims to be the real creator of Bitcoin (BTC), filed a notice of compliance to the U.S. District Court of Southern Florida where he claims to have received the private keys to the 1.1 mln BTC (about $9.5 bln at the time of writing) he mined together with the late computer scientist Dave Kleiman.
Bitcoin Satoshi Vision, a Wright-led fork of Bitcoin Cash that purports to more closely adhere to the anonymous Bitcoin creator's true ideas about cryptocurrency, surged today. The currency rose as high as $447.13 before settling around $388.
With the day's gains approaching 100%, this has some calling Wright's tactics a straight-up exit scam.
The results of this poll certainly elucidate Bitcoin SV's image problem, considering all the controversies surround Mr. Wright in the past year. From his lawsuit with Bitcoin Cash ABC(BCH) Roger Ver, to the allegations of falsifying court documents to prove a trust deed with this plaintiffs.
So what do you think??
---
MARKET PULSE 🔥
Bitcoin's major indicator, Fear and Greed index has finally reached Neutral levels after hovering around in the territories of "Fear" over the last few weeks.
At time of writing, the index is at 54, which is 10 points higher than the previous week, suggesting that the market is reacting positively to the recent rally of major cryptocurrencies.
It is interesting to note that just one month ago, the Fear & Greed Index was 21 at "Extreme Fear"
---
BEST CURATED ARTICLES
Crypto Analytics Firm Elliptic to Tell US Congress Privacy Coins Need Stricter AML Rules - Read More Here
US Congress Looks at Role of Crypto and Internet in Funding Hate Crimes- Read More Here
---
Connect with us on other social media channels too!
Facebook • Twitter • LinkedIn • Instagram • Telegram • Medium • Discord